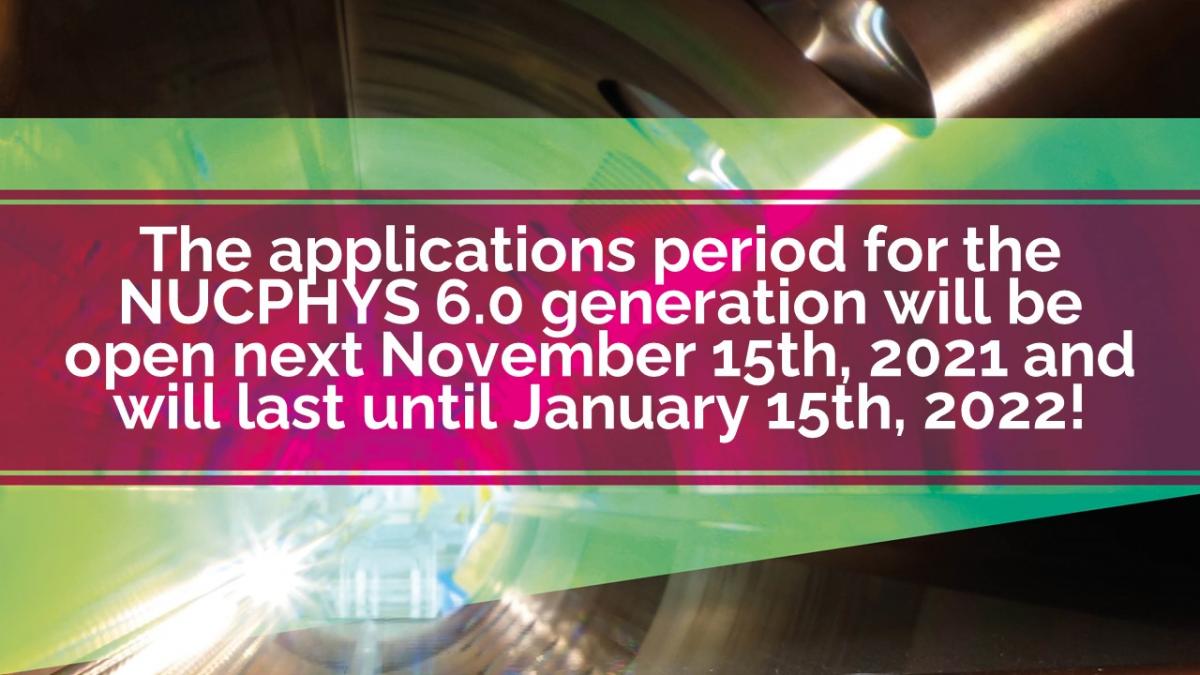 To apply for a scholarship in the NucPhys MSc course, you must just mark the option in the application.
Only COMPLETE APPLICATIONS will be considered
1. The data of retained candidates may be used for the purposes of evaluating the Erasmus Mundus Programme and will be made available to the Agency, the EM National Structures, the EU Delegations and the Erasmus Mundus Student and Alumni Association, acting as stakeholders of the programme.
Once completed the application form, the following documents must be attached (translated into English if necessary) composing a single file to be uploaded and submitted:
Copy of a valid ID document (passport, identity card, etc).
Photo.
Copy of the official transcript of academic records from HEI awarding Bachelor Degree.
Whenever possible, students will be required to present officially certified copies and translations of the student's diplomas and grades and an official certificate of the ECTs content of the subjects and of their position within their corresponding cohort.
A complete and updated curriculum vitae (the Europass CV is recommended).
Motivation letter from the student explaining why she/he has selected the Master and describing purposes and interests.
Commitment Letter to full-time study for the two years of the Masters Course.
Proof of level of English, B2 or equivalent (the accepted certificates are TOEFL, IELTS, University of Cambridge Certificates, etc).

- TOEFL test: minimum score 78 (210 computer-based/547 paper-based test)
- IELTS test: minimum score 6.0, at least 5.7 on each sub-score (Academic test and not the General one!)
- Cambridge International Examinations: FCE level B2 with minimum score 72.

Only students who had their bachelor education in Canada, USA, UK, Ireland, New Zealand, Australia do not need to send in an English language test.

Any other documents characterizing applicant's credentials, like research memoirs, mathematical competitions diplomas, etc.
Recommendation letters from two referees, of which at least one academic. 
In case of problems, please contact
Sevilla Secretariat
Mrs. Mamen Borrego
University of Sevilla (SPAIN)
Address:
ESCUELA INTERNACIONAL DE POSGRADO (EIP)
Pabellón de México, Paseo de las Delicias
C.P: 41013 Sevilla (SPAIN)
Teléfono: 954550139
e-mail: nucphys@us.es (link sends e-mail)
Privacy Statement
Please note that if you are selected (proposed for a scholarship/fellowship, put on the reserve list or enrolled on a self-paying basis) your data may be used for the purposes of evaluating the programmes, efficiently manage the projects, and producing statistics. Data could be made available to the EACEA, the European Commission, the European External Action Service staff, as well as to other stakeholders of the Erasmus+ programme, such as Erasmus+ National Agencies, National Erasmus+ Offices and the Erasmus Mundus Student and Alumni Association.
More information can be found on: http://eacea.ec.europa.eu/erasmus_mundus/funding/scholarships_students_academics_en.php